As I have written in the previous post, buildings that are severely damaged by the 3.11 earthquake, are not necessarily obvious. As after-shakes continue and over 70 of them have been recorded to exceed the magnitude of five, the risk of damaged buildings to come down when people are much relaxed about the safety, cannot be undermined.
City offices seem obviously aware of the issue and sending staffs to investigate buildings. By simply being in Sendai for a brief time, I have managed to see three different color codes: green for safe, yellow for caution, and red for danger.
According to Mr. Ishii, who is behind many of the non-governmental activities that take place in Tohoku Region, color-coding are playing important roles in many of the refugee camps and, sadly, the temporary space where bodies are placed. When bodies were found from the areas damaged from tsunami, bodies are categorized by the area they are found, each of which are color coded. Mr. Ishii also described the importance of where to place these colored signs, as many of the families and relatives who visit the place often are not walking with their eyes at the front, but rather to the ground.
Considering the significance and the state of shock that 'users' of the facilities are in, I am glad that there are such design solutions found and someone is executing them in a consistent manner.
For more design solutions, have a look at issue+design, which is Hakuhodo's effort on how to solve some of the social issues using the power of design, though in Japanese. In terms of using color codes to solve some practical issues that exist in natural disasters and evacuations, I recommend checking out the Dekimasu Zekken: A simple color coded badge that can be taped on the back of the volunteer staffs. There are altogether four colors, each of which describes the different types of skills of the volunteer.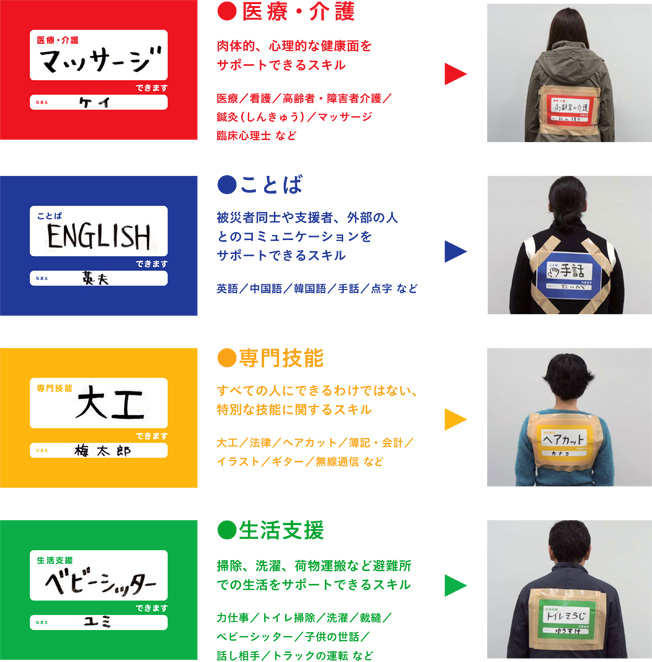 Dekimasu Zekken (Japanese): http://issueplusdesign.jp/dekimasu/